Irish musical play 'PEGGY MACHREE'
written by Patrick Bidwell (alias mrs. Denis O'Sullivan)
Irish comedy 'PEGGY MACHREE'

Written by
Patrick Bidwell [=alias mrs. Denis O'Sullivan/Elizabeth Curtis O'Sullivan (1865-195.(?))]

[BIDWELL = possible from grandmother Huldah Bidwell (1782?-1864) married to Marvin Curtis (1784-1866)]
[BIDWELL = NOT from the English village Britwell Salome where her vacation cottage was]

Music by:
Michele Esposito
Clarence Lucas (1866-1947);

Cast
Harry Trevor - mr. Denis O'Sullivan (in 1904, 1905, 1907, 1908; born 1868-died 1908)
Harry Trevor - Joseph O'Mara (1908)
Peggy Machree / Lady Margaret O'Driscoll - Marie Dainton (in 1904)
Peggy Machree / Lady Margaret O'Driscoll - Grace Palotta (in 1905)
Peggy Machree / Lady Margaret O'Driscoll - miss Christina Nielsen of the Idora Park opera company (1907)
Peggy Machree / Lady Margaret O'Driscoll - Elsa Ryan (in 1908)
Peggy Machree / Lady Margaret O'Driscoll - miss Adrienne Augarde (1908)
Sir Lawrence Bostwick, Trevor's friend - Charles Wyngate (in 1905)
Sir Lawrence Bostwick, Trevor's friend - Percy F. Leach (1908)
Molly Cafferty - miss Hallie White (in 1905, 1907)
? - John Ravold (in 1905)
? - Fred Kavanagh (in 1905)
? - Maggie Francis Leavy (in 1905)
? - mrs H.D. Byers (in 1905)
? - Grace Goodall (in 1905)
? - Christine Neilsen (in 1907)
widow Machree - Daisy Lovering (1907)
Michael, the piper - John Maher (1907)
a Scott - Will Walling (1907)
an English ninny - Ernest Glendinning (1907)
Sergeant Bramptonn the English Army - A. Bert Wesner (1907)
Sergeant Bramptonn the English Army - Arthur Wynn (1908)
the villain - Edward Coxen (1907)
the dowager - miss Adele Belgarde (1907)
? - Annie Yeamans (in 1908)
? - Marie Welsh (in 1908)
? - J.D. O'Hara (in 1908)
? - Percy Leach (in 1908)

Tour:
5 November 1904 - King's Theatre, Glasgow (UK)
3 / 28 December 1904 - Wyndham's Theater, London (UK)
4-9 / 12 December 1904 - Royal Lyceum Theatre, Edinburgh (UK)
3 sept. 1905 - Grand Opera house, San Francisco (USA)
august 1907 - Alcazar Theater, San Francisco (USA)
5 jan. 1908 - McVicker's Theatre, Chicago (USA)
20 Jan 1908 - Grand Opera House, Terre Haute, Indiana (USA)

Publication:
- [Peggy Machree.] Denis O'Sullivan's Song Successes in ... Peggy Machree, etc. [Words by P. Bidwell, set to Irish Airs by D. O'Sullivan. Arranged and harmonized by M. Esposito.] by Denis O'sullivan (Author), publisher: J. Church & Co (1908)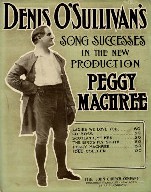 What name do they be callin' me,
The len'th and the breadth of the barony
What should they call a poor Colleen
Who no grand gentleman ever has seen
But Peggy Peggy Machree?
'Tis a name that is far too good for me
And how I desarved it I never could see
But one and all they do call me so
Mother and lover and friend and foe
Just Peggy! Peggy Machree!

And sure I try a good girl to be
To fit the fine name they have christened me,
But how can you help if your glances stray
After a handsome young man by the way
O Peggy Peggy Machree?
What is the meaning of Peggy Machree'
Tis Peg of me heart me love, that's me!
And when the right lad is comin to woo
If he'll say the one word 'tis all he need do
Just Peggy! Peggy Machree!
(http://contentdm.baylor.edu/cdm4/document.php?CISOROOT=/01amp&CISOPTR=7728&REC=14&CISOSHOW=7724)
- O'Sullivan, Denis (1868-1908)
* Barytone singer and actor; born at San Francisco, of Irish parentage;
* educated at St. Ignatius College, San Francisco;
* studied music as an amateur under Hugo Talbo and Karl Formes, and was first violin of the Philharmonic Society, also playing the second violin, viola, cello, oboe, doublebass and practically every other instrument in the orchestra except the piano.
* Studied under Vannuccini in Florence and Shakespeare and Santley in London, and spent six months under Sbriglia at Paris in 1899.
* His professional career began in 1895. He joined the Carl Rosa Opera Company, and made his operatic debut at Dublin as Ferrando in II Trovatore and also sang Alfio in Cavalleria Rusticana, the Mayor in Son and Stranger, Prince John in Ivanhoe, Biterolf in Tannhauser, Lothario in Mignon, and Van der Decken in The Flying Dutchman.
* In 1896 he made his reputation in Shamus O'Brien at the London Opera Comique. He returned to America in 1897, and appeared in Shamus O'Brien and recitals during 1897 and 1899.
* He also starred in Boucicault's Irish dramas, Arrah na Pogue, Shaughraun, and Colleen Bawn. In 1896 and 1901 he appeared at the London Ballad concerts, and frequently appeared before the King with the Royal Orchestral Amateurs.
* Mr. O'Sullivan was noted especially for his true interpretation of Irish songs and for his versatility, as shown by his perfect rendering of songs in eight other languages. In the summer of 1907 he sang Irish songs before the Colonial Convention, where were assembled the Premiers of all the British Colonies. He died suddenly.
[http://grandemusica.net/musical-biographies-o/o-sullivan-denis.html]

- SHAMUS O'BRIEN GOOD.
Production of a Charming Opera Comique at the Broadway Theatre.
It is many a long day snce New York had had anything so artistic in the form of light opera as Shamus O'Brien. If this delightful work does not attract general and continued attention from the public..etc.
...And mirabile dictu! he sang well, with a pretty tenor voice and a nice enunciation. Denis O'SULLIVAN was manly and sympathetic as SHAMUS, and Reginald Roberts sang charmingly and acted sensibly as Capt. Trevor. A.C. Cunningham was interesting as Father O'Flynn, and his good baritone voice was well used in his songs...etc.
[The New York Time 6 Jan 1897]

-... Dennis O'Sullivan, who is the SHAMUS, is not a good singer, either, but he makers Shamus picturesque and sympathetic. It seems that he is not a native born Irishman as the otehrs are, but a product of the glorious climate o'Californy. He is the son of Irish parents, who, being tolerably well to do, sent him abroad to study suning. He secured as engagement across the Atlantic, and never stopped to study at all, which accounts for some heart-breaking things in his vocalizing. But he's a very proper figure of a man, and has some skill as an actor.
There is a lesson in stage mabagement in SHAMUS O'BRIEN and it is imparted by the work of the chorus. How many of us have grown heartily weary of the utterly maenignless marchings and callisthenics of the usual Comic Opera chorus! As the Merry Merry Chorus in Adonis...etc.
[The New York Time 17 Jan 1897]

- THE TREASURER S CLUB.
...and Dennis O'Sullivan who sang "The Low-Backed Car" an Irish ballad....etc.
[The New York Time 8 Febr 1897]

- Francis WILSON and his Company left last night for ROCHESTER, where they will present for the first time this evening at the LYCEUM THEATER the new opera THE LITTLE CORPORAL. They will give four performances of teh opera in that city and retun to New York Sunday night prepared to open their New York engagement at the Broadway Theatre Monday night. Ludwig Englander, the composer of teh opera, will conduct the orchestra on the opening night.
[The New York Times Sept 15 1898]

- NEW BILLS OF THE WEEK.
Operetta and music Hall Spectacle - Sam Bernard.
Francis Wilson will begin his annual engagement in New York at the Broadway Theatre- to-morrow night, presenting a new operetta by Harry B. Smith and Ludwig Engländer, entitled The little Corporal.
The time of action is 1797....etc.
Mr Wilson will be Petit pas, of course, mr DENIS O'SULLIVAN St Andre, miss Lulu Glaser will, it is said, have a charming role as a peasant gril masquerading as a fine lady. The cast will also include Maude Lillian berri, Alene Crater, John Brand, and a host of others...etc.
[The New York Times Sept 18 1898]
[http://query.nytimes.com/mem/archive-free/pdf?_r=1&res=950DE3D81139E433A2575BC1A96F9C94699ED7CF&oref=slogin]

- The popularity of mr. Francis WILSON and The Little Corporal is beyond dispute. The operetta has been drawing large and well-pleased adiences at the Broadway Theatre, and the smiles of the Star have increased in geniality with each succeeding week. The operetta does not commend itself to praise on high artistic grounds, but it contains an abundance of incident and pleasing stage pictures, and it will certainly prove to be a valuable acquisition for Mr. Wilson. (W.J. Henderson)




[The New York Times 30 october 1898]

- Francis Wilson & Company. Drawings concerning Francis Wilson & Company's The little corporal: Guide.
Harvard Theatre Collection, Houghton Library, Harvard College Library
..
Series: II. Costume design drawings for The little corporal
57) [Principals]. Marquis de St. André as French lt., Act II. 1 folder.
On recto: [Denis] O'Sullivan.
(58) [Principals]. Marquis de St. André as Captain of Hussars, Act III. 1 folder.
On recto: Denis O'Sullivan. On verso: Act 2.
[http://oasis.lib.harvard.edu/oasis/deliver/~hou01801]
- WILSON IN THE LITTLE CORPORAL.
Francis Wilson, after an absence from this city of several weeks, appeared at the Broadway Theatre last night for a two weeks engagement in Harry B. Smith's and Ludwig Englander's operetta "THE LITTLE CORPORAL". That Mr. Wilson has lost none of his power as a funmaker and laugh creator was demonstrated by the applause with which the audience greeted his performance. Miss GLASER was as fascinating as ever. DENIS O'SULLIVAN sang well the sentimental music of the Marquis's part. Others in the cast were Miss Maud Lillian Berri, Louis Casavant, Messrs. Brand, Holbrook, and Chadwick, and Misses Crater, Bagley, Previllo and Reilda.
[The New York Times 19 jan 1899]

- SAN FRANCISCO. Tivoli was crowded to the doors night with it fashionable cultured and musical audience to welcome DENIS O'SULLIVAN the dramatic
baritone of London in the revival of Dr Stanford's romantic Irish opera Shamus O'Brien It was made a society event and O'SULLIVAN who scored a dis- tinct
hit was received with unbounded enthusiasm He a native of San Francisco but has been in England and on...
[Fresno Morning Republican, The Friday, June 30, 1899]

- DENIS O'SULLIVAN IS NOW THE RAGE.
San Franciscan Scores a tremendous Hit in London.
NEW YORK March 17 - The Journal's London cable says:
The new musical sensation of London is Denis O'Sullivan of San Francisco who woke up the other morning to find himself famous. The LONDON TIMES gravely pronounced him to be "onde of the illustrious singers of the world" while numerous other critics fairly lavished praises upon him.
Nearly everybody in San Francisco especially members of the BOHEMIAN CLUB know Denis O'Sullivan - the handsome clever jolly good-natured Denis whose remarkable barytone voice is only equaled by his versatility as an amateur actor, a story-teller and an all-around good fellow. Mr. O'Sullivan had done some singing in England and appeared in an opera, but the public and musical critics did not take him seriously.
For the past year he has been rather out of the public sight, carefully studying ans training his voice in earnest. A few days ago he gave a song recital at fashinable St. JAMES HALL and that has made Denis O'Sullivan of the Bohemian Club famous. He sang every kind of song from grand opera in German through French, Italian, Spanish schools to English ballads and rollicking Irish melodies and then capped the climax by singing a chant of the Zuni Indians in their own language.
The audience went wild and demanded to know if there were any more languages and native songs that he could sing. Denis O'Sullivan laughingly said he could do a bit of old Gaelic and Louisiana coon songs and some Chinese.
Columns are being printed about Mr. O'Sullivan in the LONDON newspapers and his future career is of great interest.
[SOURCE: The San Francisco Call March 18 1901]

- LONDON, Nov. 16. -- All the old favorites at the London theatres are doing pnenomenal business. "San Toy," at Daly's Theatre, promises to reach its one thousanth performance. "William Gillette keeps the Lyceum Theatre packed with "Sherlock Holmes," and "The Last of the Dandies," at Her Majesty's Theatre, is equally..
..Another American, Denis O'Sullivan, is the recipient of unstinted praise from the critis and the public. His Irish song recital Nov. 11 roused the audience to a pitch of enthusiasm seldom seen in a concert room.
[The New York Times 17 nov 1901]

- 1904 Lyric Theatre, Shaftesbury Avenue, Westminster, London, England
DUCHESS OF DANTZIC, THE
actor : O'Sullivan, Dennis, Mr. as Francois Marechal Lefebvre
[http://library.kent.ac.uk/library/special/icons/playbills/playdat1.htm]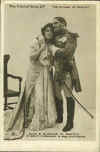 1905 Play Pictorial Series 20II, "The Duchess of Dantzic" miss Edith Elizabeth (Evie) Greene (1876-1917) and actor Mr. Denis O'Sullivan (postcard sent to mr Woodley Band). (http://www.stamps-auction.com)
--> Computer Generated MIDI Operas "The Duchess of Dantzic" (1903) : http://www.halhkmusic.com/dantzic.html (http://www.halhkmusic.com/victorian.html)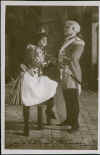 The Duchess of Dantzic; Evie Greene (as Sans Gene), Denis O'Sullivan (as Lefebvre); "We'll fight through life together as man a wife should".

- PEGGY MACHREE PROVES SOMEWHAT AMATEURISH
Marie Dainton and Denis O'Sullivan Save Bidwell's Play From Becoming a Frost.
LONDON Dec 28 At Wyndham's Theater to-night C.E. Hamilton, one of Charles Frohman's business managers produced PEGGY MACHREE an Irish musical play by Patrick Bidwell. The rather amateurish piece was saved by the clever acting of Marie DAINTON and the fine singing of DENIS O'Sullivan. It is understood the play will be taken to America.
[SOURCE: The San Francisco Call December 29, 1904, Page 3, Image 3][http://www.loc.gov/chroniclingamerica/]

(POSTCARD - Marie Dainton as Peggy Machree, publisher Rotay 201G, United Kingdom 1905)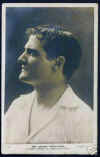 (Denis O'Sullivan as Barry Trevor in Peggy Machree (J. Beagles&Co))

- Denis O'Sullivan, heading an excellent company, will begin a three week engagement at the grand Opera-house next Sunday afternoon. The first play to be presented by the brilliant Irishman will be Arrah na Poque in which Miss Lillian Albertson will appear as Arrah.
The theater will be dark for the week.
+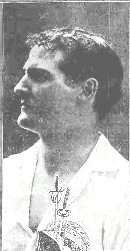 picture of Denis O'Sullivan
[The San Francisco Call August 13, 1905, Page 19, Image 19][http://www.loc.gov/chroniclingamerica/]

- Denis O'Sullivan supported by his excellent trope of Irish players, opened his second week's engagement to a crowded houses in the Grand Opera-house last evening in the famous Irish drama THE COLLEEN BAWN. Mr. O'Sullivan is vertainly a splendid Irish impersonator and drew the applause of the large audience.
He was also encored for all his Irish songs which he sang, keeping the brogue throughout.
Mr. O'Sullivan took the part of Myles Na Coppaleen, a good-hearted rogue, who always happened in at the right time and through his witty sayings brought laughter troughout the audience. John Ravald appears as Danny Mann...etc.....Next week Mr O'Sullivan will appear in PEGGY MACHREE which will be the first time this play has ever been produced in America.
[The San Francisco Call August 28, 1905, Page 12, Image 12]

- DENIS O'SULLIVAN TO PLAY PEGGY MACHREE AT GRAND.
Will Close life engagement with Piece in Which He Has Won great Succes Abroad.
Denis O'Sullivan will present for the last week of the enganement at hte Grand Opera-House which begins next Sunday matinee, PEGGY MACHREE a musical play at Wyndham's Theater, London, and throughout the British Isles.
It was specially written for him by Patrick Bidwell and the character of Barry Trevor is said to be a splendid vehicle for the full display of his ability. As the title indicates, the scenen of teh play is laid in the Emerald Isle and the Irish atmosphere is delightfully maintained thoughout.
Mr. O'Sullivan will maker his role particularly attractive by singing the following Irish songs: Welcome Home, Widow Malone, The Birds Fly South, Oh Lovely Roses and O'Driscoll Aboo.
The famous Gaelic dancers Joseph P. Keleher, Joh OÇonnell, Hazel and Bessie Allen will appear in new reels, jigs etc. The production will be a beautiful one and the company will be strengtened by the addition of John O'Hara, hallie White and mrs H.D. Byers. A specially engaged chorus will be an attractive feature.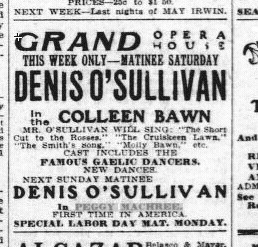 [The San Francisco Call August 30, 1905, Page 9, Image 9]

- Grace Palotta will play Lady Margaret O'Driscoll in PEGGY MACREE which will be produced by Denis O'Sullivan next Sunday matinee and for this last week of his engagement at the Grand Opera House.
Louise Brownell was originally cast for the role, but severe illness compelled her to surrender it, and Miss Palotta kindly consented to supply her place in spite of the fact that the Irish dialect is one in which she does not claim proficiency. However, her ability as a comedienne ensures an arch, clever and vivacious performance, which will offset any deficiency in accent.


Grace Palotta to Play Irish Character Part
[The San Francisco Call September 01, 1905, Page 7, Image 7]

- ATTRACTIONS OFFERED AT THE LOCAL THEATERS.
A new Irish play, written by Patrick Bidwell expecially for Denis O'Sullivan and entitled PEGGY MACHREE and Kipling's Light That Falled, will be the two novelties of the week at the theaters.
PEGGY MACHREE, will be seen for the first time in America at the Grand Opera-house this afternoon, with Denis O'Sullivan as BARRY TREVOR. The play made a great succes in London, where it was produces at Wyndham's Theater and also throughout the English provinces. Mr. O'Sullivan is said to have an opportunity of the best as Barry Trevor, and will have an even more than usually attractive repertoire of songs that will include some of the ancient Irish folk songs besides the "Welcome Home", "The Birds Fly South", "Oh lovely Roses", "O'Driscoll Aböo" and the fascinating "Widow Malone".
In addition tot the already notable compaby gathered to support Mr. O'Sullivan will be John D. O'Hara, Hallie White and mrs H.D. Byers. The Gaelic dances of Joseph P. Kelicher, John O'Connell, Hazel and Bessie Allen that have added so much tot the attractions of the engagement will also be one of the features of PEGGY MACHREE. The first performances of the play will be ginven this afternoon and there will be an extra mattinee tomorrow, Labor day.
[The San Francisco Call September 03, 1905, Page 19, Image 19][http://www.loc.gov/chroniclingamerica/]

- LOCAL TALENT TO THE FORE.
Peggy Machree Scores the Biggest Success fo the Four Home-Made Plays.
MUCH TO ENTERTAIN.
Denis O'Sullivan Is Well Supported in Piece That Was Written by His Wife.
The 'made in California' play continues to arrive. Four plays in as many weeks is the record of the local playwrights and producers. last week the Alcazar gave the first of the quartet, in Jack London and Lee Bascom's one-act play "The Great Interrogation".
Yesterday afternoon "PATRICK BIDWELL" watched the first production here of 'his' play "Peggy Machree" at the Grand Opera-house. This evening the Majestic will have the premiere of a play by Maurice Samuels, "The Conflict". This evening also Ye Liberty-Playhouse in Oakland will see the premiere of the Sea Wolf, a dramatization of Jack London's novel of the name by Joseph Noel. At least bearing. If not honor, in his own country has been vouchsafed the local playwright.
So far, the plays seen both add notably to stage loot and are as the poles apart. Irish romance, musical romance, of the frankly conventional type, Patrick Bidwell has chosen as medium PEGGY MACHREE. Easily PEGGY MACHREE is of the best of the class. It is very handsomely what it purports to be, a musical play. In fact, PEGGY MACHREE is better comic opera than a good many of the brand.
There are several taking choruses. Michele Esposito and Clarence Lucas at the making, these also responsible for some pretty lyrics, and there is a collection of old and new Irish ballads that alone is worth going for. The O'Driscoll Aboo comes then, as thrilling a bit of song-making as you are likely to have the luck to hear. It made O'Driscoll of us all yesterday afternoon.
As to PEGGY MACHREE's story - take a pretty, headstrong lass of high degree, a prankful Irish youth, a disquise or two, a mock marriage that turns out to be a real one, a freak will, a fortune-hunting villain, an abduction, and you have most of the materials. Not new, but deftly handled by Patrick Bidwell who, of course, is MRS DENIS O'SULLIVAN except it comes to playmaking. The long arm of coincidence is not infrequently pulled, but it is so adroitly suggested that you are in it at the pulling, that you perforce forgive it. PEGGY, who when she is at home is Lady Margaret O'Driscoll, on her eighteenth birthday rebels at being bothered to sign papers and runs off to the county fair. Here she is found at the home of her foster-mother, and to have a day's fun puts on her peasant foster-sister's gown. Of course, the prankful youth turns up here. But the foster-mother has been pursuiing in the female Superman fashion one Alexander McDougall for several years. This happens to be one of the wedding days from which Saroney has escaped. "They must have a wedding" everybody says.
PEGGY and Barney Trevor (the prankful youth) gayly, offer themselves as victims, Trevor's friend to play the friar. Mrs CAFFERTY (the foster-mother), however has a priest on the premises. Trevor's friend has promised to vome to the church disguised in one of his gowns. But Trevor's friend afterward decides to goback on the jest. You know why - that priest is in the house. Also, if the priest had not conveniently - so conveniently ! - stipped out of the cottage to go to the church to make the mock a real marriage, you would have gone in to fetch him yourself!
But if it is conventional, obvious, PRETTY PEGGY is also very prettily, likebly so. There is the genuine romantic flavor and plenty of fun, and a neat touch of pathos. The characters are well drawn throughout, that of the Scotchman aforesaid being both now and rattlingly effective.
Of the performance as a whole too much can hardly be said. The work of a week only went with a spirit and smoothness truly satonishing. As BARNEY TREVOR Mr. O'Sullivan himself is most happy. Big, breezy, rolloicking as the best of his work it is, and with a fiddle tucked under his chin, perhaps his scene as the wandering fiddler is a little the best of anything Mr. O'Sullivan has yet done. He is also in ecellent voice, his songs "Widow Malone", "The Birds Fly South", and the aforesaid "O'Driscoll Aboo" being of the rarest. In the aforesaid mentioned fiddling scene Mr. O'Sullivan is foiled in capital fashion by John O'Hara whose Alexander McDougall is a Scot of the first water. He plays it in his owns legs, and a face that would be a fortune if it were not for the legs.
Miss Grace PALOTTA, who grew an accent and did all the rest for PEGGY since last Wednesday, was truly charming in the part. The work was a little nervous to begin with, but fresh and piquant, spirited and most winsome throughout. Miss PALOTTA also made a delightful picture and was in uncommonly god voice. The minor parts are all honorably filled in, Charles Wyngate, as Trevor's friend, P.S. Barrett - who put on a new English accent in the last act, John Ravold, Fred Kavanagh, Maggie Francis Leavy, Hallie White, Mrs H.D. Byers and Grace Goodall, all deserving mention. Miss White as Molly Cafferty, added very pleasantly to the musical side with her songs. A good chorus was also in evidence and under George P. Towle's direction dod effective work.
Those like PEGGY MACHREE's kind will like PEGGY MACHREE very much. Everybody there seemed to be that kind yesterday afternoon.
BLANCHE PARTINGTON
[SOURCE: The San Francisco Call (San Francisco [Calif.]), September 04, 1905, Page 12, Image 12]
[http://www.loc.gov/chroniclingamerica/]

- Denis O'Sullivan To Sing beautiful irish Ballads
(Alhambia Theater 24 October 1905)
[SOURCE: The San Francisco Call october 20 1905][http://cbsr.tabbec.com/]

- DENIS O'SULLIVAN TO SING AT ST. DOMINIC'S CHURCH
Denis O'Sullivan will sing the offertory and Agnus Del at the high mass at St. Domonic'sChurch this morning..etc.
[SOURCE: Newspaper: The San Francisco Call Date: October 22, 1905 article ]
[http://cbsr.tabbec.com/]

- A crowded house will undoubtedly be in attendance at the Alhambra Theater on Tuesday night, on the occasion of DENIS O'SULLIVAN's farewell appearance in this city, in a delightful song recital programme. Probably no artist appearing before the American theatergoer at the present time has achieved the reputation held by Mr. O'SULLIVAN for the rendering of Irish ballads. During the many accasions on which mr. O'SULLIVAN has appeared in this city he has always sung one or more of these favorite songs, and it is these songs, together woth others never before heard here, that will constitute Tuesday's programme. Following is the programme in full.
Heliopolis - Schubert
Stimme der Liebe - Schubert
Nina - Pergolesi
Des Glockenthurmer - Tochterlein
Child's songs - Piove, Piove, Allegri, Allegri (from Scene Bamboneschi) - A. Randegger Jr.
Trommellied - TaubertA Dirge for Poland - Chopin (English words by Julie Heynemann)
I'd Sail Upon the Dog Star (old English) - Purcell
When I Listen tot Thy The Voice (old English) - Lawes
The last Chantey (Kipling), new - Cook
Child Songs - Star Children (new) - Liza Lehman
When Daddy Was A little Boy - Brainard
Juliette - Brainard
Five songs from The Just So Stories (new) Ed German
The Race, The Uninhabited Island, The Camels'Hump, The First Friend, Rolling Down to Rio (Words by Kipling)
The Wearing of the Green (by request) - Traditional
...etc.
The Birds Fly South (words by Patrick Bidwell) arr - Esposito
The Pride of the Rileys (words by Patrick Bidwell) arr - Carmicheal
[SOURCE: The San Francisco Call October 22, 1905, Page 19, Image 19]

- DENIS O'SULLIVAN SCORES SUCCESS In SONG RECITAL.
Renders Works by Composers of Several nationalities, Aided by Accompanist Frederick Maurer.
DENIS O'SULLIVAN gave a song recital last night in hte Alhambra Theater, delighting his audience with gems which might be termed songs cosmopolitan, for they represented the composers of several nationalities. Among them were good and quaint old English sonds, such as Purcells'"I'd Shall Upon the Dog Star" and Lawes When I Listen to Thy Voice, and several with words by KIPLING.
Then there were Irish airs, old and new, notably "The Emigrant" and "The Wearing of the Green", and two very pretty things, The Birds Fly South and The Pride of the Rifeys, words by Patrick Bidwell (Mrs O'SULLIVAN).
The success of the recital was shared by Frederick Maurer whose accompaniments were masterful interpretations of the composers.
[SOURCE: The San Francisco Call October 25, 1905, Page 9, Image 9][http://www.loc.gov/chroniclingamerica/]

- O'SULLIVAN TO APPEAR In NEW MUSICAl PLAY.
The Geisha Will Be The Offering at Idora Park Opera House.
OAKLAND July 27 - Denis O'Sullivan who has been attracting and pleasing crowded houses at Ye Liberty theater this week in ARRAH NA POGUE, will appear for the last time tomorrow night in the role of Shuan. Commencing Monday night the bill wil be PEGGY MACHREE a musical play written especially for O'Sullivan by his wife, and which he presented in London and throughout the British Isles with marked success. The scenes of the play are laid in Ireland and the atmosphere of the Emerald Isle in admirably maintained. O'Sullivan will be seen in the part of Harry Trevor and the role of Peggy will be assumed by Miss Christina Nielsen of the Idora Park opera company.
The Geisha will be the offering at Idora Park Opera House next week. It will be on by a strong cast with accessoiries that will surpass anything yet used at the popular playhouse. Two new stars Miss Doris Goodwin and Wallace Brownlow a famous English barytone, will appear here for the first time Monday night. Tomorrow night The Merry War will be sung for the last time.
[SOURCE: The San Francisco Call July 28, 1907, Page 30, Image 30]

- IRISH COMEDY AT ALCAZAR.
Denis O'Sullivan, with his delightful voice and exquisite acting and supported by a capable company will be seen this week in the musical Irish drama PEGGY MACHREE written especially for the star by Patrick Bidwell. The production will be elaborately staged and should score success No. 1 for Mr. O'Sullivan since the openign of his Alcazar engagement.
The story of PEGGY MACHREE is not at all commonplace. Mr Bidwell chose for his heroine Lady Margaret O'Driscoll who in order to attend a county fair, takes the name of Peggy. There she selected by the peasants to act as one of the principals in a mock marriage. Attending the same function is Barry Trevor, a traveler, who is accompanied by his friend Sir Lawrence Bostwick. Harry is selected for the bridegroom and his friend is called upon to perform the ceremony, Michael a piper, convinces Sir Lawrence that this would be bad policy on his part for such an action would be liable to arouse the peasants. So it is that a real priest is called in and a sure enough marriage is the result. The contracting parties find themselves in a terrible fix, and Barry on account of Lady Margaret, leaves for the war and is away five years. He returns as a wandering minstrel on the very evening that Lady margaret must produce a husband or marry her cousin, according to the will of a dead relative, who has left her a lof of property. She finds that she loves Barry, and introduces him as her husband thereby averting a fate that she did not relish. And in accordance with all good Iraish tales, the couple live happily ever afterward.
Denis O'Sullivan will conclude his engagement at the Alcazar with a production of the great Irish drama "The Shaughraun".
[The San Francisco Call August 25, 1907, Page 34, Image 34][http://www.loc.gov/chroniclingamerica/]

- [ADVERTISEMENT] New ALCAZAR new
absolutely class A structure, Corners Sutter and Steiner Sts., Belasco & Mayer, Oners and managers
Tonight and all week DENIS O'SULLIVAN
Supported by the new Alcazar Stock Caompany in Patrick Bidwell's musical Irish drama
PEGGY MACHREE
matinees Saturday and Sunday, PRICES Night 25c to $1; Mats. 25c, 35c, 50c
Next week, last Week of Denis O'Sullivan, The Shaughraun, Opening with labor Day Matinee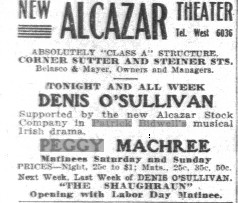 - SECOND NEILSEN BRINGS A SWEET YOUNG VOICE TO O'SULLIVAN COMPANY.
Denis O'Sullivan showed good judgment when he added Christine Neilsen to his company at the Alcazar for the production of PEGGY MACHREE. This new aspirant for prima donna honors has a fresh, sweet and youthful soprano, not powerful, but suited to the demands of light opera. It is reminiscent of the voice possessed by Alica of the same name, and when training and experience have added to its scope and certainty San Francisco will have had the honor of launching two Neilsens (not related) on the operatix stage. Miss NEILSEN has a lot to learn about acting, but occasionally gives indications of a capacity for developing dramatically.
PEGGY MACHREE for which [mrs] O'Sullivan wrote the lyrics, has been seen here before. There is more romance than logic in the story, which hinges on a marriage intended as a joke but inadvertently made real, and a five years separation of the bride and groom. A will and a villain, tha latter happily defeated in the end, figure in it. There are plenty of touches of Irish humor, and altogether it is a good vehicle for the presentation of lyrics, both gay and romantic. Indeed (so many are the songs that one hesitates about classing it as anything but comic opera. O'Sullivan is at his best in "The Donovans" a merry melody that sets feet to tapping and evokes the greatest applause of the evening. His duets with Miss Neilsen include "Idle Colleen" "Peggy Machree", "oh lovely Roses" and Roaming. O'Sullivan's voice has not the range of former days, but it possesses the old time warmth and sweetness. As Barry trevor he does not shine dramatically as he does in some of his Irish plays that call for the portrayal of more daredevil characters. The support in the main is good.
Daisy Lovering sacrifices herself to the demands of makeup as the Widow Machree, and barring her dialect which at times has a close resemblance to Swedish, plays the part with rare humor. John Maher as Micheal, the piper, is completely an irishman, while Will Walling succeeds thoroughly in impersonating a dour Scott. The typical titled English ninny in the play is dairly done by Ernest Glendinning.
A. Bert Wesner is an excellent Sergeant Brampton, and sings well. He and Miss Hallie White, who plays Mollie Caffery, sing Funny Little Bird
with gay spirit. Edward Coxen is competen as teh villain and Miss Adele Belgarde plays the dowager with her usual dignity.
[The San Francisco Call August 27, 1907, Page 7, Image 7]

- PEGGY MACHREE the Irish musical drama being played this week at the New Alcazar theater has proved to be the second hit of the current engagement of DENIS O'SULLIVAN and his excellent support. Miss Christine Nielsen who jumped from the rear rank of the chorus to the position of prima donna within three weekes, has been in excellent voice since the openin gof the engagement. With every performance her histrienic ability is being improved. PEGGY MACHREE will be played throughout the week, with mationees on Saturday and Sunday adn will be followed by THE SHAUGHRAUN. This famous play by Dion Boucicault will be given at a special matinne on Labar Day and during all of next week. later the New Alcazar management will produce SHORE ACRES with Fred J. Butler in the role made famous by James A. Herne.
[The San Francisco Call August 29, 1907, Page 9, Image 9]

- "PEGGY MACHREE" PRODUCED.
Denis O'Sullivan's Irish Comedy Is Well Received.
CHICAGO, Jan. 5. - "Peggy Machree," an Irish comedy, had its first American presentation at McVicker's Theatre tonight, with Denis O'Sullivan in the principal part. Mr. O'Sullivan found opportunity for a number of new songs, and also for several of the old-time melodies of his countrymen. A large audience greeted both the play and the player with much applause.
The story is written around a mock marriage entered into in a spirit of revelry by Harry Trevor (MR. O'SULLIVAN) and Peggy Machree (ELSA RYAN). After the wedding the principals discover that a real priest officiated, and that the ties are binding. Trevor goes away to war, and years afterward returns to fall in love with Lady Margaret O'Driscoll, to find that she is the Peggy Machree to whom he was married earlier.
The cast includes besides Mr. O'Sullivan and Miss Ryan, Annie Yeamans, Marie Welsh, J.D. O'Hara, Percy Leach and others. The costuming and the scenery are unusually good, the time of the play, 1740, giving plenty of opportunity for pituresqueness and beauty.
[SOURCE: The New York Times January 6, 1908, Monday]

- PEGGY MACHREE In CHICAGO.
Chicago Jan. 5 - PEGGY MACHREE an irish comedy had its first American presentation at McVicker's Theatre to-night, with Denis O'Sullivan in the principal part. The cast includes Elsa Ryan, Annie Yeamans, Marie Welsh, J.D. O'Hara, Percy Leach and others.
[SOURCE: New-York Tribune January 06, 1908, Page 7, Image 7]

- WARM IRISH HEART STILLED IN DEATH.
Dennis O'Sullivan Loved for Great Personality Dies of Appendicitis.
Brilliant Career as Actor and Sweet Singer is Cut Short.
While on the theshold of the greater succes and just after his abilities had won for him the recognition of the big managers in his own country DENIS O'SULLIVAN best beloved of Irish singers and one of San Francisco's most popular sons. Yesterday was claimed by death in Colombus, Ohio. The same great love of his art and his profession which had won him his success hastened him to his grave.
He was attacked by appendicitis while making a return tour in PEGGY MACHREE from Chicago to New York, but despite his illness refused to give up his work. When finally compelled to do so it was too late, and though the surgeons at GRANT HOSPITAL in Columbus performed an immediate operation, there was even then no hope for his recovery and at 7 o'clock yesterday morning life's vurtain was rung down, cutting off a career in the height of its brillancy, hushing the melody of the sweet vice and stilling the beat of the warm, generous Irish heart.
CLUB'S COLORS LOWERED.
General grief marked the news of his death in his native city of San Francisco. The BOHEMIAN CLUB which knew him and loved him as the best Bohemian of them ail, went into immediate mourning. Its flag drooped in sad token of its loss at half mast and in the clubrooms the members gathered around to talk of the friend lost to them.
DENIS O'SULLIVAN was born in this city in 1868 being the son of Cornelius O'Sullívan who founded and later became president of the Hibernia bank. From his ealiest years his dramatic abilities and melodious voice were recognized and in 1890 he went to ENGLAND to study music and dramatic art. From London he proceeded tot Italy, studying under Vannuccini.
On his return to London he appeared at Covent Garden with Karl Rosa, and followed that by creating the title role in SHAMUS O'BRIEN. He brought this piece tot San Francisco, playing at the Tivoli Theater and his next appearance on the stage was with Dion Boucicaults The Shaughraun.
MARRIES HIS PLAYWRIGHT.
Prior to this he had met and married in London Miss Elizabeth Curtis who was well known in San Francisco and who wrote for Sullivan his biggest success PEGGY MACHREE. The part he played in PEGGY MACHREE was the part he played in life - that of a warm hearted lovable Irish boy, generous to a fault and with an irresistable personality. The characteristics which won him applause and success in his play won him loeve and admiration in his private life.
His entrance into the Bohemian Club was the signal for a general gathering around him he often held the attention of the room for hours while he care out stories and tales from the almost inexhautible stock. At the jinks "Neely and his tin flute" were unique features which invariably contributed to a large share of the evening's fun. Whether he was a member of the Bohemian Club or not is a matter of doubt. As a member of the Lambs' in New York he had all the privileges of the Bohemian Club. The question was brought up yesterday in the clubrooms and no one could give positive information as to whether he was a member or not. He was just 'NEELY' whom everybody loved.
HIS PATRIOTISM ARDENT.
He was not alone a singer and a story teller. The serious side of his nature was marked by a deep patriotism and love of Ireland. He did much to help the Irish cause and among the Irish nationalists in London he was a general favorite, rousing them with fiery songs of Erin's isle and lending his aid to many projects for the betterment of Ireland and the Irish.
Locally he was connected with the Loring Club, the Philarmonic Society and the Bohemian Club and in New York was a prominent member of the Lambs' Club.
He leaves a wife and three children who are now in London, thrree sisters and two brothers. The sisters are Mrs Oscar Sutro of San Francisco, Mrs. Patrick Boland of Los Angeles and Ellen O'Sullivan, who is now in Rome. His brothers are John O'Sullivan of Reno and Joseph O'Sullivan of London.
Mrs Dennis O'Sullivan will take te body to London. Oscar Sutro left yesterday for Columbus to take charge until the widow arrives.
Dennis O'Sullivan had signed a contract with KLAW & ERLANGER for five years just a short time ago, and had opened in Chicago with PEGGY MACHREE at the commencement of this season. He had lived long enough to gain the recognition of the big theatrical magnates but was overtaken by death before his abilities were given that wide opporunity which they deserved.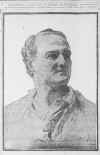 Denis O'Sullivan the famous Irish actor and singer who died yesterday. This portrait is a reproduction of a charcoal sketch by John Singer Sargent, in possession of Mrs Oscar Sutro in this city.
[SOURCE: The San Francisco Call February 02, 1908, Page 32, Image 32]

- Joseph Brooks and A.W. Dingwall managers of the late Denis O'Sullivan, are negotiating with an Irish actor and singer of prominence in Great Britain with a view to starring him next season in America in the romantic Irish comedy PEGGY MACHREE which was produced with success at Vicker's Theater, Chicago, a few weeks ago, but which had to be withdrawn on account of the sudden death of mr. O'Sullivan.
[SOURCE: The Washington Times March 01, 1908, Society, The Stage, and Personal Chat, Page 7, Image 30]

- HEARS FROM SORROWING FRIENDS AND FORMER CLUB COMRADES MANY ANECDOTES OF DENIS O'SULLIVAN AND HIS PROWESS AND FROLICSOME GOOD NATURE.
O'Sullivan Shown Versatile Genius.
No tears more sincere were shed than those over the passing of Cornelius Denis O'Sullivan best known to those who loved him as NEELY. Every day some one has something new to record of the beloved singer - an incident of his career, a story of a kind deed or a happy saying.
In the Olympic Club they love to recall his prowess with the gloves, for Neely O'Sullivan was a splendid boxer. In the Bohemian Club there are many who remember when he first began to be known as a marvelous baritone. When Bluff King Hal, the Dan O'Connell and H.J. Stewart comic opera, was given its premiere - for the benefit of the San Francisco art association. I believe it was - Neely had one of the minor roles.
It was long after that he decided to take up the study of music as a means of increasing the fortune he has inherited. The subsequent sale of the O'Sullivan property in BUSH STREET for a large sum rendered it unnecessary for any of the heirs to attempt to swell their income, but Denis then was at the height of his London fame and in his work in concert and on the stage had found a congenial career. His brother JOE later developed a fine voice and it was by the elder brother's advice that JOE went to Paris and studied under a famous teacher. JACK, the youngest boy, became a mining engineer.
COURTED WIFE IN HER STUDIO HERE.
It was not abroad, as some of the papers had it, that Denis O'Sullivan first met and fell in love with the San Francisco girl who became his first wife. When Elizabeth Curtis was located with her easel and palette in the old art students' league building Neely used to be one of the most constant visitors at her studio. He dropped in at all hours and used to sit and watch her paint, and Miis Curtis and he were great friends. She called him "the wild Irish boy", for he was so full of life and fun and always playing harmless pranks. He was her wooer then, and the London marriage was the sequel of the old courtship begun in the San Francisco studio.
[SOURCE: The San Francisco Call February 06, 1908, Page 4, Image 4]

- O'SULLIVAN, A requiem mass for the repose of the soul of the Denis O'Sullivan will be said by the Very Rev. J.J. Prendergast at St. Mary's cathedral at Van Ness avenue and O'Farrell street today (Saturday) february 8, at 10 oclock a.m.
[SOURCE: The San Francisco Call February 08, 1908, Page 13, Image 13]

- Denis O'Sullivan Leaves all to Wife.
Will of noted Actor and Singer is Filed for Probate in This City.
The will of Denis O'Sullivan the world famous San Francisco sining actor, who died in Columbus O February 1 was filed here yesterday. It leaves everything to his widow ELIZABETH CURTIS O'SULLVAN of 7 Lansdowne Road, London, England. This will was
[SOURCE: The San Francisco Call March 7 1908]
[http://cbsr.tabbec.com]

- Mrs Thomas Maggee and her little daughter Katharine have reached Londen and are with her sister, Mrs. Denis O'Sullivan, in the O'Sullivan home in Lansdowne Road. later on with the three O'Sullivan children they will go to the south of France for a stay of several weeks.
[SOURCE: The San Francisco Call May 23, 1908, Page 6, Image 6]

- Mr. Cornelius Denis O 'Sullivan (generally known as Denis O 'Sullivan), of San Francisco, the well-known Irish tenor and actor, who died on February 1, aged 39 years, left" estate valued at of .which is real and personal estate in California, and £984 estate in the United Kingdom. Probate of his will, dated September 17, 1902, has been granted to his widow, Mrs. Elizabeth Curtis O 'Sullivan, the sole executrix to whom he left the whole of his property, absolutely, declaring that he made no provision for his children, knowing that his wife would make due and adequate provision for - them.
[New Zealand Tablet, 23 July 1908, Page 28][http://paperspast.natlib.govt.nz/cgi-bin/paperspast?a=p&p=home]

- BELGRAVIAN BIGAMY THEME OF NEW PLAY.
Marriages of Mayfair, Pillories the divorce-Got-Abroad Evil in English High Life.
NEW YORK TO SEE PIECE.
London's Theatrical Season Prosperous $40.000 Worth of Seats to Barrie's Play Sold in One Day.
Special Cable to the New York Times.
LONDON, Sept 12 - After being closed for more than a year since the Shuberts abandoned the manegament, the Waldorf is to be reopened by H.R. SMITH, one
of the partners in the Smith-Carpenter conbimnation, who achieved a great popular success by making the Lyceum the home of melodrama. Mr SMITH has
taken a twenty-one-year lease of the Waldorf, and he proposes to start operations in November with a new musical comedy.
The new management will endeavor to overcome the difficulties ....Arrangements have been made by Joseph Dingwall's representative over here for JOSEPH O'MARA to sail for the United States on the Philadelphia Oct. 10 in order to tour America in 'PEGGY MACHREE', the Irish musical play in which the late DENIS O'SULLIVAN [1868-1908] made a great success. It is no secret that 'PATRICK BIDWELL' the name given on the pregrammes as that of the author of 'PEGGY MACHREE' veils the identity of DENIS O'SULLIVAN's widow. Before leaving Europe O'MARA will give two concerts, one in London and the other in Dublin...etc.
[SOURCE: The New York Times September 13, 1908]

- BROADWAY THEATRE.
There is a hearty welcome in store for Joseph O'Mara when he makes his appearance at the bropadway theater to-morrow night in PEGGY MCHREE. Mr O Mara has eben heard in this country before now, and his reputaion as a singer is thoroughky established.... Miss Adrienne Augarde an actress well known in London will be PEGGY. There will ne the usual afternoon performances durting the engagement.
[New-York Tribune December 20, 1908, Page 2, Image 44]
- PAGINA 875
and The Duchess of Dantzic, needed a vehicle in which to tour. His wife, under the penname of Patrick Bidwell, put together a piece called PEGGY MACHREE for the purpose. PEGGY MACHREE had a story in the vein of Martha or The marriage Market and told of a young lady who goes through what she thinks is a mock marriage only to find she is truly married. Many years later the two meet again and fall in love, only to discover that they are already man and wife....
- PAGINA 876
..had selected and topped them off with a little original music. Thus the piece had very much the flavour of an early ninenteenth century ballad opera. The O'Sullivans called it a romantic comedy with music, which was a fair enough description. PEGGY MACHREE was produced at Grimby in November and began to tour with great success. When produces Charlis Hamilton had an opportunity of five weeks at London's Wyndhams Theater before the...
[The British Musical Theatre Door Kurt Gänzl (1986)]

- TITLE PEGGY MACHREE [music] / by Mrs. Denis O'Sullivan (Patrick Bidwell) ; music by Michele Esposito, Clarence Lucas and Denis O'Sullivan.
DATE [1904]
NAME Esposito, M.1844-1930., Lucas, Clarence,1866-1947., O'Sullivan, Denis, Mrs. ...
Description 4 boxes (30 mss. items)
From Collection In National Library of Australia - National Library of Australia collection
[http://www.musicaustralia.org]

- page 101
....at year, William Green recorded The s Grave (black G&T 2-2648) while urate's song, sung by Denis O'Sullivan red on the same label with the even lower lier) serial number 2-2598....
[The Gilbert & Sullivan Journal]

- BING CROSBY (1903-1977) ..... Music was always seemed a key ingredient of life within the Crosby household. One memorable payday evening Bing's father returned home toting two large packages containing a phonograph complete with a large speaker horn in addition to several records featuring baritone Denis O'Sullivan (1868-1908), marches by John Philip Sousa and other bandleaders, and a collection of songs from Gilbert and Sullivan's operetta, The Mikado. On another occasion, Dad Crosby went without a new suit he had been saving for in order to purchase a piano. Kate made sure that her daughters received lessons on the instrument; however, none of the boys displayed an interest. Every Sunday evening the Crosbys would engage in a family songfest. Dad Crosby would bring out his mandolin and four-string guitar, and everyone would gather round their favorite pop standards. Kate possessed a rich contralto voice—she'd been a member of the church choir in Tacoma prior to responsibilities of motherhood—and the children (except for Everett, who reputedly couldn't carry a tune in a bucket) did a creditable job of contributing the harmony parts........
[http://www.shsu.edu/~lis_fwh/book/roots_of_rock/support/crooner/Crosby2.htm]

- Collection of programmes: William Edmonds (1894-1913)...
10 July 1906, Royal Botanic Gardens: Garden Fete in aid of the organization fund of The Legion of Frontiersmen, including programmes for the following performances: Band of the 2nd County of London (Westminster Dragons); Open-Air Concert No. 1 with Angelo Asher's Cadogan String Band (conducted by Mr J. Alexandra), the Alexandra Quartette and Robb Harwood and Miss Mabilia Daniell (vocal); Angelo Asher's Cadogan String Band; Conservatory Theatre Concert, including Mr Stanley Hawley (piano) and Mr Franklin Clive, Mr Denis O'Sullivan and Miss Ethal Bevans (vocal), accompanied by Mr Stanley Hawley and Mr Alfred West; Pastoral Performances of A Midsummer Night's Dream, Act V, with incidental music by Mendelssohn; Open Air Concert II with Mr Sydney Stoeger (piano) and Miss Helene Garland, Mr Conway Dixon, Miss Decima Moore, Mr Leslie Stiles, Miss Marion Cecil Marler, Mr Arthur Royd and Miss Laura Field (vocal), accompanied by Mr Sydney Stoeger [32]. The collection also includes a separate programme for the Bivouac Concert, with Mr Reynolds Denniston, Mr Arthur Royd and Mr Burnage (vocal) [33]
[http://www.concertprogrammes.org.uk/html/search/verb/GetRecord/4412]
- 10. The sorcerer: The Curate's song sung by Denis O'Sullivan - bass-baritone, D/75
[CHEYNE RECORDS - Classical and operatic historical recordings 1900-1930]
[http://www.cheynerecords.co.uk/Sullivan%20inlay%20card.htm]
- Pagina 175
Sung by Mr. DENIS O'SULLIVAN The Milliner Monarch. Sung by Mr. COURTICE POUNDS
Love and ever Love. Sung by Mr. LAWRENCE REA A Gentleman Of France. ...
[The Cherry Girl: A Musical Play in Two Acts; Ivan Caryll, Seymour Hicks 1904]

- Pagina 89
"California House" for Disabled Belgians Soldiers, 82, Lancaster Gate, Hyde Park, W.
Executive Committee.
Chairman - Miss Heyneman
Secretary — Mrs. G. LOWNDES.
Secretary for California — Mr. BRUCE PORTER, 3234, Pacific Avenue, San Francisco.
Mrs. ALFRED FOWLER | Mr. F.L. Bosqui
Mrs. BENJAMIN LATHROP. | Mr. C.B. Fernald
Mrs. ARTHUR VINCENT | Mr. Robert Harndon
.....CARTON DE WIART. Mrs. HERBERT HOOVER. Mrs. FRANCIS ORMOND. Mrs. DENIS O'SULLIVAN. Mrs. CB FERNALD. Mr. JOHN S. SARGENT, RA Mr. H. CARRINGTON....
... and after their dismissal from hospital—were wholly at a loss what to do with themselves, most helpless and forlorn, Miss Heyneman, of San Francisco, induced a small group of Californians in LONDON to form a Committee. The result was, California House, supported by Americans (chiefly Californians) at home and abroad. The experiment has been a great success. Every opportunity is......
[The Anglo-American Year Book - International Development Company, American Chamber of Commerce in London - London (England) - 1913]

- One was an Irish comedian from England, Denis O' Sullivan, whom Bishop signed for a three-week engagement in July, 1907, before the comic- singer committed ...
[The Oakland Theatre, 1890-1915; William Charles Wente]

- Pagina 252
.....Sung by Mr. DENIS O'SULLIVAN ... ..40 The Milliner Monarch. ... Septet, Is. net each CHAPPELL & CO., LTD., 50, NEW BOND ST., LONDON, W. AGENTS— NEW YORK: ...
[The Orchid: A Musical Play in Two Acts - Ivan Caryll, James T. Tanner, Adrian Ross, Percy Greenbank, Lionel Monckton - 1903]

- Pagina 272
...Sung by Mr. DENIS O'SuLLiVAN ... The Milliner Monarch. Sung by Mr. COURTICE POUNDS Love and ever Love. Sung by Mr. LAWRENCE REA ... The Legend Olden (Duet). ...
[Madame Sherry: A Musical Play in Three Acts - Hugo Felix, C. E. Hands, Adrian Ross, Maurice Ordonneau, Paul Burani (1904)]
- Pagina 130
...places".
In September they toured to the northernmost corner of Scotland and then traveled on to England, staying a fortnight in London at the home of Mrs. Denis O'Sullivan, a relative of Carmel friends, later moving to her daughter's cottage at Oxfordshire [=KERRY VOR, Britwell Salome!!!], which Una described in a letter to Bender: "This is a rambling up and down old house of nine rooms but we live mostly in the big kitchen-sitting room which has an enormous fireplace at one end with copper and brass pots about it At the other a big dresser with gay Breton china. The walls are white panelled and the floor red bricks. Robin works all morning in the tiny Drawing- Room which has a good fireplace and two long French windows opening into the garden and all the morning sunshine comes is. Robin is writing constantly at something these days down here - He had to autograph the unbound sheets of the special edition of his 'Dear Judas' last week. ......"
- pagina 210.
...thought nostalgically of Tor House - if they could only get home they would not care if they never saw Ireland again! Today was teh 29th anniversary of their moving into TOR HOUSE - the home they loved so warmly. But Dr. Pringle refused to release JEFFERS until he was certain that he could make the journey home without dangerous complications. On August 23, MEDEA was to open at the Edingburh Music Festival and the Whiteheads had urged Una to accompany them. Heffers was so greatly improved that she yielded to their importunities and flew to Edinburgh to meet them. Watching the "Medea" Una found it difficult to disassociate herself from the New York performance. Eileen Herlie, who played Medea in the Edinburgh production, was too young for the part, and, despite her sincere efforts, she lacked Judith Anderson's ..
....Una left Edinburgh the next day and flew to London to spend a few quiet days with her good friend Bess O'SULLIVAN(!!). She suddenly realized how deadly tired she was and what a tax on her own health the anxiety over Robin had been. Here Percy Peacock called on her—it proved ......
[BRON: The Stone Mason of Tor House: The Life and Work of Robinson Jeffers / Melba Berry Bennett, Lawrence Clark Powell - 1966]

* 1 Mill Valley, Bohemian Club, John O'Sullivan, page 18;
* 2 Sausalito, Aunt Kitty, White House, page 41;
* 3 Mill Valley, Daniel Frohman, Harry Lyon, page 56;
* Pagina 95
...Good news of the at home came steadily; Aunt KITTY wrote, "These creets spil me". Fred and Helen were expecting a second baby, mark gallantly helping TERESA through the Christmas rush at the bookstore, and visiting Mare Island and San Mateo friends for weekends, and Jim earning his first money checking umbrellas at Paul Elder's. Joe's switchgear shed was meanwhile continually threatened with extinction, but the circuit breakers and transformers somehow staggered on from split to ...
* Pagina 96
...than that, and among the inevitable surprises or our first year together was my discovery that even my adored family came under the ban of his uneasiness. He told me that his mother's life had been haunted by relatives, his father's peace of mind destroyed, and that he had a horror of "things-in-law. Much disturbed, I wrote this guardedly tot TERESA, and had an answer on a note of laughter. "Don't be an idiot, Katy, and scare the poor boy to death. He'll like us all when he knows us. Don't keep reading our letters to him, or let him know you write me every day". And that crisis was handled once and for all. Thanksgiving was barely past when the amazing letter came from Teresa. Her long faithful labors at Paul Elder's bookshop, her eager interest in half the great libraries of San Francisco and the Peninsula, were to be interrupted by a marvelous holiday. She and the lovely friend she called "my Ellen" were abroad for four miraculous months! Mostly to be in London, where Ellen had a sister-in-law with a spacious brick house in Lansdowne Road, but to Paris, too, and to Rome. "Oh, Katy, Katy", said the ecstatic letter "aren't we the luckiest people!" My Ellen" was Ellen Eugenia O'SULLIVAN, of the pioneer San Francisco family. She was the youngest of some dozen brothers and sisters, all delightful, and one.
* Pagina 97
Cornelius Denis, the adored 'NEELY' of the whole city, was famous [=baritone Denis O'SULLIVAN 1868-1908]. Denis had cultivated a magnificent voice in Europe (incidentally had heard an unknown John McCormack sing at an Irish festival and had encouraged the lad ) and had won for his wife the daughter of another San Francisco pioneer family, an artist in her own right, Elizabeth CURTIS. Denis and Bess had divided a romantic life between London and San Francisco. Early in the century Denis toured America, playing the singing heroes of the old Dion Boucicault plays, Arrah- na-Pogue and Shawn the Post. His death a few years earlier was a sad curtailment of an established career; his widow and her sons and daughter continued to make their home in London, and his portrait by John SARGENT lives on in the family as a guarded treasure. So it was to "AUNT BESS" that Teresa and her Ellen were going, and the anticipation of meeting them, in Hoboken and
getting my arms around the shabby, joyous little figure of Teresa made my first New York Christmas one deep wild expectation....
* pagina 113.
...had been very much her own mistress; she had read voraciously and widely.
Her free and abrupt comments upon various phases of convent life did not seem to her unnatural; she could even infuse a trace of fun into them, and fun except for the larklike chatter of the normal novices in recreation, has small part in novice training, or indeed in convent life. Grave smiles, happy subdued laughter as Good Mother finds her decorated chair at her feast, and unrestricted childish teasing at the twice-daily recreation-these keep the atmosphere of a convent genuinely sunny. All Catholics know that a nun who has found her vocation is truly the most celestially...
* pagina 114.
...orthodox. She told me later that some of the 'darlings' in the novitiate who were struggling with eighteen- and nineteen-year-old difficulties in the house of novices couldn't look at her without laughing. "No matter how seriously I looked at them they put their white veils together and simply burst into giggles," said Teresa remorsefully.
Eventually she had a brief and not unkindly session with the Superior. That responsible person asked her frankly if she felt herself fitted for her hard calling. Teresa asked for another trial and was reminded that she had had several trials. Good Mother told her, almost with motherly tears, that she would make a strong good nun, if she would. But she observed that a twenty-eight-year-old will was harder to subdue than the will of a girl ten years younger, and it was for Sister Teresa, before there was any talk of final vows, to make the decision for herself. Good Mother summoned a small portress. The doors that gave straight upon London's streets were open.
Teresa knelt for a final blessing and went through that first door, dressing in strange clothes in a small cubicle, in a lonely fifteen minutes, picking
up the packed bag that she found beside. ELLEN [O'SULLIVAN] had come home alone to SAN FRANCISCO long before. Aunt BESS was down in the country; it was full summer now, dry and dusty in the great capital. Teresa walked awhile sat on a coping and watched doves that broke the air with that summer sound of London: coo- yoo, coo-you. Then she found she had some money and bought a bun and a cup of tea, and afterward walked
* pagina 115.
all the way to LANSDOWNE ROAD. An elderly maid was there, sleeping in the place as caretaker, and Teresa found clothes of Aunt BESS's that fitted her, wrapped up for return to the convent the tight shirtwaist and dragging skirt in which she had come away, and rested, rested, rested, thinking it all out, for days. Then she went down to Aunt BESS [=MRS DENIS O'SULLIVAN!], inexhaustibly kind, to play with the engaging TERENCE [O'SULLIVAN!], and cling to the odd and fascinating child who was BIDDY [O'SULLIVAN!] until something of a healing process was accomplished. Then, in a second-class steamer and by second-class passage, she sailed for home, and Frank, the
baby of the family, seven months old, went into spasms of ecstasy.
We had had a cable from sensitive, loving Julie HEYNEMAN(!!!), a San Francisco artist who was then workting in the London studio of the great John Sargent. Just two words, Teresa out," but nothing in the Magna Carta ever said as much to me. We met her with tears of joy and the baby of the family instantly displayed a maddening preference for his 'Goggy' and was given, his own special place in her battered heart form that hot, crowded hour on the dock. Battered she was. But we all went down to a boarding-house in Freeport on Long Island for summer weeks and gradually, as we idled on the beach, sat guarding the crawling baby, and picnicked in the shade of the great trees, the soreness vanished. It was never resentment, it was only self-blame, and Teresa [THOMPSON, tr. BENET] was too healthy a person to dwell long in that uncomfortable country. She could laugh now as she pleased; she could feast.
[BRON: Family Gathering/Kathleen Thompson Norris, 1959][google books]
- Pagina 195
... Ever since I was eleven years old, I have had horses. it started when Chilworthy was sold and Fanny bought the cottage in Oxfordshire with an American girl called Biddy [O'SULLIVAN], whose family were friends of ours. It is not finished yet. I still keep horses in North Falmouth, and hope to go on keeping them even after I have to be hoisted into the saddle with a block and tackle, and can do no more than potter down the road and back before tea. Horses process extraordinary amounts of expensive food through one end and out at the other, and unless you are winning prizes or selling horses or manure, there is no material profit...
..who was a school librarian at the time in a district of south London where about ninety per cent of the children had probably never touched a ohrse, much less sat on one, had said, I can't satisfy their hunger for horse books. There are never any left on the shelves (Oh, Miss Dickens, your books are always on our shelves). You've spent most of your life with horses...
[BRON: An Open Book - / Monica Dickens - Literary Criticism - 1978]

- Pagina 256
... Astor. Shane leslie, scholar and literateur, as well as Sir John Lavery, eminent artist, whose wives are Americans, and Mrs. DENNIS O'SULLIVAN, the writer, and widow of the distinguished singer, give intellectual hospitality to numerous visitors, and contribute to make London livable and likable. Social influence is very insinuating, and in stoutly maintaining any cause, one has to steel himself against it. Where ons's interest is disengaged or slight the social power scores, and scores easily, because the majority of people have no set convictions..
[BRON: Travel and Comment - James Duval PHELAN - 1923]

- Pagina 12
..ballad resung about gallant Reynardine upon the mountains high and The Heather Glen is a sweet original song to the tune of An Smachtaoin Cron. Most of his translations have been collected in his volume Bards of the Gael and Gall (Talbot Press)
... V. Stanford and Charles Wood, the singer Denis O'Sullivan, the Irish Literary Society (London) and the Irish Folk Song Society (London). His songs, once launched at private recitals and concerts in London, readily
found a publisher, though it is unlikely that he or his musician friends ever made £500 a year out of them as Moore had done in somewhat similar circumstances three generations before......
- Pagina 13
In all he must have written more than two hundred songs, taking the tunes (I avoid using the word melodies on account of its wrong connotation with Moore's characteristic words) mostly from the 1855 Petrie ....
... 25 songs 1897 Songs of Erin — Graves-Stanford . 50 songs 1901 and No ...
..50 songs 1893 Many of the more popular songs from these volumes are also available in sheet form. At the Dublin Feis Ceoil for many years the songs prescrebed for the DENIS O'SULLIVAN MEMORIAL MEDAL were to be found in one or other of these volumes, and indeed they are still constantly used either as test pieces or 'competitor's own choice.' The late TW Rolleston, who was a cousin of Graves...
[BRON: Publications - door Bibliographical Society of Ireland - 1950]
Portrait Denis O'Sullivan :
* http://images.library.uiuc.edu:8081/cdm4/item_viewer.php?CISOROOT=/actors&CISOPTR=2016&CISOBOX=1&REC=15 (The Dover Street Studio; 38 Dover St. Mayfair, London W);
* http://images.library.uiuc.edu:8081/cdm4/item_viewer.php?CISOROOT=/actors&CISOPTR=2017&CISOBOX=1&REC=16 (Elliott & Fry; 55 Baker Street London W);
(c) EvD maart/april + juni 2008.